Click download: VIVE Tracker Role Changer for tracker 1.0 2017 version
Tips:
- How to setup: start PC--- run tracker role change into controller-- turn on steamVR-- tracker and steamVR connected-- tracker connect to pp gun via cable--- turn on power pp gun.
– PC Windows regard running Tracker role changer as virus, please shut down windows defender and anti-virus software before download and run role changer software.
- Unplug usb of Vive HMD before doing tracker role changer on PC, otherwise HMD will damage, Very important!!!
Dear Customer, Greetings.
What we offer is Vive GunVR+ tracker 1.0= 100% perfect GamePlay.

Due to latest version vive tracker 2.0 released in 2018, it's not compatible with Vive gun perfectly, that missing function below
- Unusable with trackpad function on vive gunVR.
- Shorter battery life on tracker 2.0 and can't charge by vive gunVR directly in game playing.
Old 2017 vive tracker 1.0 won't go with these problem, but stop production and out of stock in global market.

Selling point:
First gun-shaped HTC Vive Virtual Reality device Controller with recoil, providing the most immersive VR shooting experience.
VIVE Tracker integration built for VR shooters For HTC Vive Virtual Reality System.
It has 10 functions keys and one joystick with 5 buttons, they can related to 15 functions in the game.
The battery pack looks like clip of the rifle, the capacity is 7800mAh Li-Ion.

Specification
Mode: PG-BQ4
Main Use: Input Device - Game controller- FPS Game Controller
Support System: Windows
Support Device: PC+ HTC Vive
Connect By: VIVE Lighting house
Replacement: Can be used as one standard Vive Controller
Other Features : Have all functions of standard VIVE controller
Using time: >8h (testing environment: Continue work with continue shock, 25° C/77°F)
Length of the gun: 680 mm / 27 in
Weight of the gun: 1.3 Kg /4 lb
Size: 26.8 x 3.9x 12.6 inches

Package Contents:
1 x Gun, 1 x Clip ( Battery ), 1 x Pad Holder, 1 x Strap, 1 x Charging Cable, 1 x Tracker 1.0

For service support feel free to contact: sales@magp90.com, www.magp90.com

Live video took in the booth of HTC Vive at CES 2017.
Vive tracker Role changer tutorial:
Vive tracker set up PP GunVR tutorial:
Pavlov VR GamePlay:
Support Game List: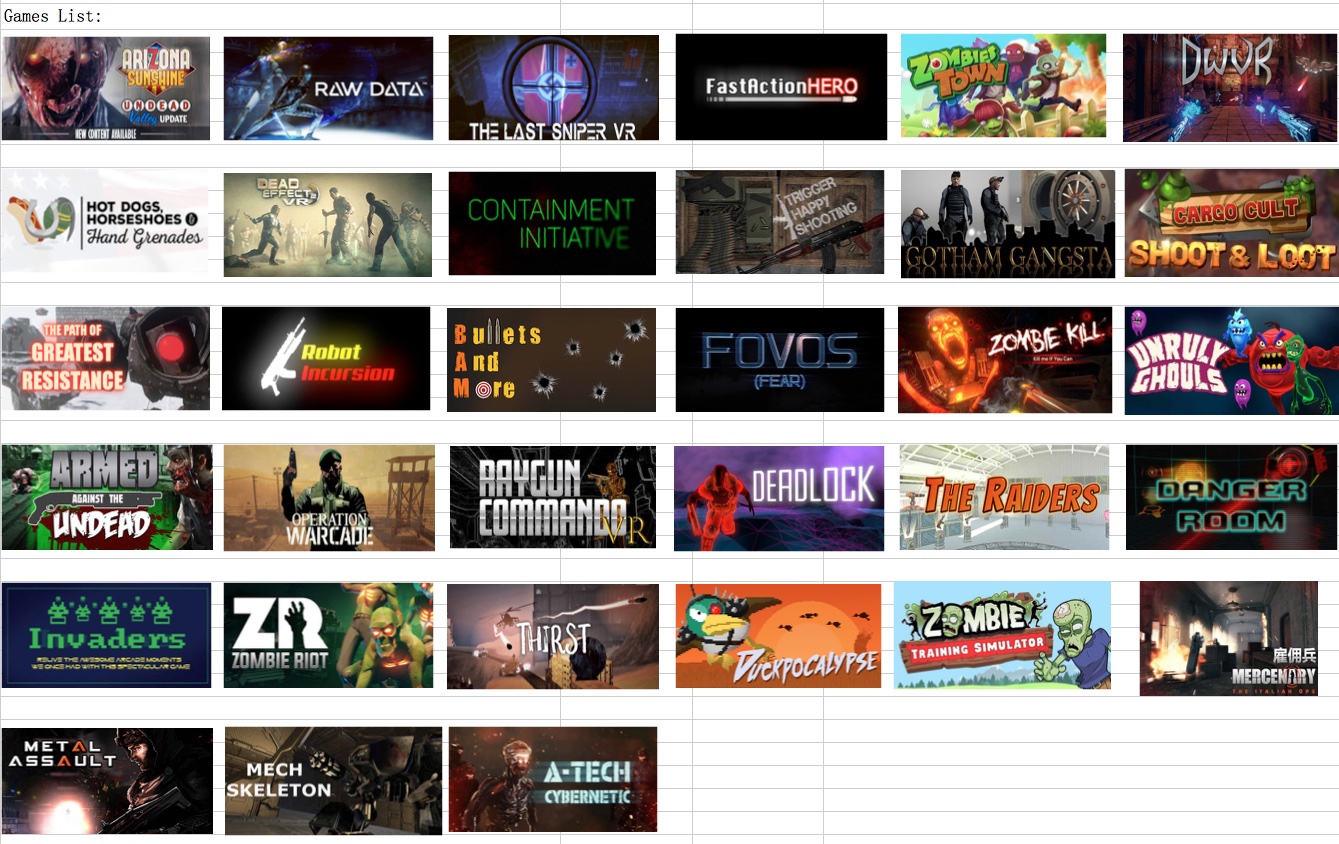 Package Contents:
1 x Gun
1 x Clip ( Battery )
1 x Pad Holder
1 x Strap
1 x Badge
1 x Charging Cable
1 x Tracker